See What Our Customers Have to Say!
Hi Tony, just to advise you that we held an Open Day here yesterday and I am pleased to let you know that we had many very positive comments regarding the grounds. Many people had never visited the site before so had no idea what was sitting beyond the main gates and they were absolutely blown away by the beautiful grounds we have. I just wanted to pass this on to you and your wonderful gardeners and to thank you for your efforts, especially last week for the opening of our Main Building.
Several years ago, rather than hiring another employee, we contracted Horticultural Services to maintain the rest home grounds. We've been working with Tony for about 3 and a half years and the person that represents Tony on our site is just like part of the team. Horticultural Services provide a good service and good people and I have recommended them to others.
We noticed a retaining wall in our garden was in need of repair and called in Horticultural Services to give us an idea of how to fix it. Tony was quickly able to identify the problem and then, more importantly, discuss with Anne what was needed to be done to establish a replacement garden alongside the driveway. His knowledge and suggestions were invaluable. The quotation for the work was very reasonable. The job was done efficiently and the team of people involved were also knowledgeable and helpful in getting the work carried out in a timely manner and to a satisfactory standard. We would be happy to have Horticultural Services carry out future work for us and willingly recommend them to others.
We requested Horticultural Services to tender for the Whanganui UCOL redevelopment. They were selected to carry out the work and completed it with excellent professionalism, minimal issues and a great result. We have had great feedback from both the UCOL and the architect and would not hesitate in using Horticultural Services again.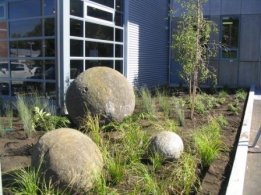 The team at Horticultural Services maintained the main campus grounds at UCOL in Whanganui and they did such a great job that we got them to do the student accommodation and the Polysport grounds too. Their work is of high standard and we always get a prompt response whenever we contact them.
We have been using Hort Services for over a year now. We originally went through several different landscapers and gardeners but weren't satisfied with the quality of the job. I'd always have to ring just to make sure they were turning up and plants weren't being pruned. We then looked into Hort Services as I knew that Tony looked after the hospital grounds. Tony has a good team. They are always personable, always turn up on time and do a great job quickly. Hort Services maintain our grounds and ensure that the area is left presentable and of a high standard. Tony suggests any improvements he thinks could be made such as more flowers or plants which arrive the next day.
"Fantastic job! Our home never looked so good. I will certainly recommend your company without hesitation.
Dear Tony,
Just a few lines to thank you and John for a great job on Sunday before and Just after the opening, the Graffiti was cleaned off at a moment's notice and very quick thinking on Johns behalf, he cleaned down the front green seats as someone else had forgotten to clean them and he did it for me without hesitation and a smile on his face and just before the Mayor came. A child was sick in front of the ladies toilets entry on the concrete. And even though the mayor did open the toilet John came within 8 minutes to wash down, this was a great feat. Please give John a well done from me Tony and my sincere thanks to you all.

Hi Tony,
A big THANK YOU for what has been an exceptional day; along with the vandalism a lady rang in to say her sons shoe had been thrown into a locked toilet and they did not live in town, so Andrew had to go and let the lady in to get her sons shoe back and Andrew obliges without a murmur and so willingly.
Thank you so much Tony, Please can you pass this on to him and tell him how much I appreciate his efforts.
For a full list of our ground maintenance services, view our 'Menu' of options. You can also contact us to discuss what you want out of your property and we'll make time to help you out.
Get a free landscaping consultation to the value of $249.00! Simply submit your details below and we will organise someone to come out and see you.